ATTORNEY NGUYEN THI HUYEN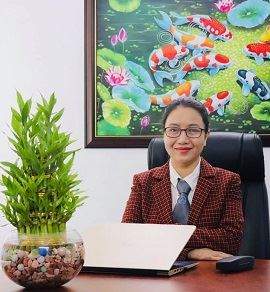 Co –founder of Hung Vuong real estate law firm
Phone: 033.305.7560
Email: huyen@luatsubatdongsan.vn
Professional
Attorney, Hochiminh city Bar Association
Bachelor of Economic Law, Hanoi Law University
Bachelor of foreign languages, English major, Hanoi Foreign Languages University
Certificate: Notary; Human resources manager; Construction investment project Management.
Skills – Experiences
Atty.Huyen has more than 15 years experience in legal field, investment procedures for real estate construction projects; editing investment cooperation contracts; good knowledge and skills in the contract negotiations; M & A legality consultant; The division profit contract; Authorized representative at the Court; Giving the other legal advices;. Apply for construction permits for civil and project types.
Specialized in: Real estate investment and Construction, The contracts, Foreign Investment Procedures. Bidding Law and Bidding Documents in the Real Estate Construction fields.
Performance
PetroVietnam Safety Technology Joint Stock Company, Dist 2, Hochiminh city
Pos: Assistant of the Managing Broad
Management, documentations, legality of the contract.
Tan Dai Tay Duong International Trading Co., Ltd, Dist 7, Hochiminh city
Pos: Legality Department
Bidding consultant, preparation and double checking all the bid documents submitting to the bidder
Festo (Germany) Limited Company:
Representing the Company in Commercial Disputes at the Court
Advising on investment licenses; retails lisence,..
Metro Project Management (Line 5), Dist 2, Hochiminh city
FEED and Project Management Consulting Contract
Legal Consultant
Khai Hoan Land Real Estate Joint Stock Company, Dist 7, Hochiminh city
Pos: Legal Manager
Real estate investment procedures, all of the company contracts reviewing.
Association members
Ho Chi Minh City Bar Association
Attorney at Hung Vuong Real Estate Law Firm